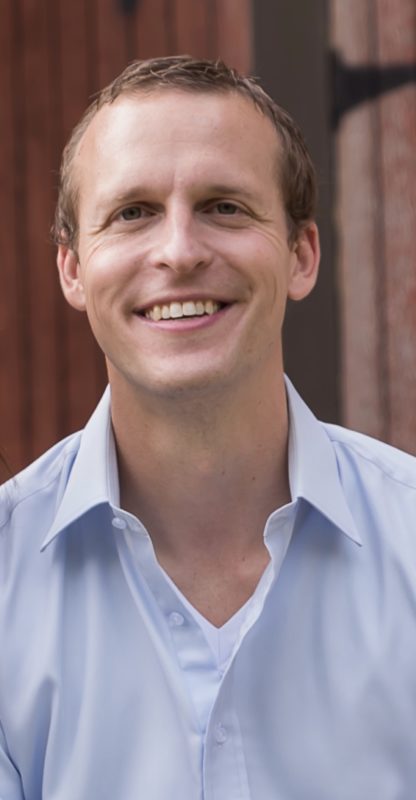 Guest blog post from Executive Director, Steve Handoyo
I'm writing today on a personal note. YourWords STL, and my family, lost one of our most ardent supporters recently in a sudden and tragic accident. My brother-in-law, Joe Giljum, should have turned 37 today. He would have hated the Cubs clinching on his home field, but he would have loved the gorgeous Chicago weather perfect for camping with his girls. He would be astounded at the effect he has had on YourWords STL and the accolades we have gotten for our work this week. My involvement with YourWords STL sprung from Joe. Indeed, his brother, Fr. Steve's, stories of the young and vulnerable in his parish ignited my initial interest in our work.
Over these numb couple weeks, I keep flashing back to dozens of memories with Joe Giljum clad in his YourWords STL t-shirt. No one has worn it more. Two days after his death, in the daze of making arrangements, I learned that YourWords STL had been designated for donations in his name. Along with St. Elizabeth- Mother of John the Baptist Parish of Joe's brother and Buddy's Place, a non-profit in Western Springs, IL for local families dealing with grief, both Joe's mother and wife thought of our organization. Conflicted, I was reminded by Anna that it was an honor and a challenge to live up to their trust.
It was fitting then, that amidst such pain and shock that weekend, we were lifted up by the raw and honest stories told by friends and family of the extraordinary human that was Joe Giljum. Preposterous tales spoken for the first time were met with knowing laughter, and incredulity at how each story so accurately captured his booming essence. After friends had finished extolling his brilliance, candor, voracious quest for knowledge and experience, and blazing love for his family, his father-in-law concluded by stating, "He was a good man.
Out of pain, stories give us hope and strength. His was a life lived so full but too short. It brims with such memories that his friends and family are devoted to putting his adventures to paper for his daughters, wife, and family. Seeing his rapt daughters squeal with delight at each and any tale of their Papa has been illuminating during this trying time. The power of stories to mobilize, soothe, entertain, and unite is limitless. YourWords STL is devoted to ensuring that our work fulfills the trust we have been given by Joe's family.  To date, over $3000 has been raised in honor of Joe.  As we amplify the stories of St. Louis's unheard youth, the students, tutors, and artists honor a man whose life inspires all who knew him.  Joe's influence helped shape YourWords STL today.  His memory and the generosity of those he impacted help us to continue working to encourage the power of stories.
In addition to YourWords STL, the Giljum family asks that donations be considered for Buddy's Place and St. Elizabeth's Parish.  Joe's children are currently participating in an 8-week course at Buddy's Place just blocks from their home.  Joe's brother, Father Steve Giljum, continues to work among the people of his parish even as he mourns his brother.